Lads Mag iPhone App
Created for K2 Media the Build A Babe App was created for their target market of young fun-minded types. This simple iPhone app development allows the user to choose 1 of 3 girls and then switch their body parts and backgrounds to create amusing (and some scary!) pin up girls.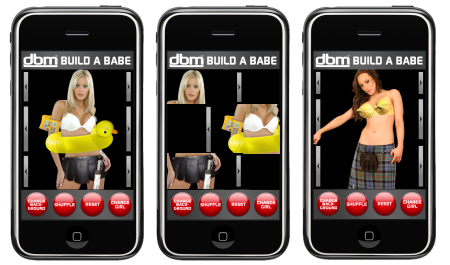 Once the girl has been chosen the switching can begin...using finger swipe functionality three body sections can be interchanged. The shuffle button will change all three body sections and the background, or just the background can be changed if required. Changing the girl provdes a whole new set of options to play with!
Technologies Used Include:
Animation to provide finger swipe functionality
Graphic rendering
Project info
Lads Mag iPhone App Launches
iphone app development, iphone application development
No.1 ecommerce website - Andrew Strain
No.1 Traveller
www.no1traveller.com
Ecommerce website serving 6 major UK Airports.
We contracted Impact to help us develop an ecommerce website offering executive lounge services at Heathrow, Gatwick & Stansted. Impact assisted in writing the functional specification and developed the ecommerce store from scratch. Over time we have enhanced the website to now take bookings for everything from lounge access to limousine hire, and airside bedrooms to spa services. This website queries real-time availability using web API's and pushes bookings through to the relevant airport lounges, plus distributes messaging to all appropriate services eg concierge, beauty therapists etc. There are also affiliate tracking systems and dynamic discount code features.
This project has involved some complex problem solving and development and we have always found Andy more than capable of delivering a solution that has met our needs, timeline and budget.
I have always found Impact to be prompt in communications, available to discuss any ideas or issues that we've had, and they have often gone the extra mile by making changes to our website and epos systems in the early hours of the morning so as to minimise disruption to our executive lounges.
Andrew Strain
Director of Digital