Health & Safety Database Development
Built to enable a busy Circus Training School to quickly and easily catalogue 1000's of pieces of equipment and location, this comprehensive database development project is helping the organisation meet its vital Health & Safety objectives.
The equipment classification and inspection database development provides tracking for equipment, logging of test data and test histories, with reminder prompts when test are due. Plus a full audit trail, via secure log in, for health and safety purposes.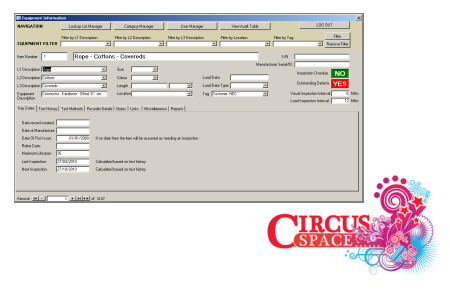 This example screen allows the database administrator to build and manage the system, including tasks such as:
Creating equipment classifications and sub level categories

Editing lookup lists

Create user accounts and set specific privileges

View the full audit trail

Normal users are able to:
View equipment records
View test data records
Add and edit equipment records
Add and edit test data
Run a variety of vital reports to assist in the smooth running of the business.
Project info
Circus School Health & Safety Equipment Database Development
access database development, database development
No.1 ecommerce website - Andrew Strain
No.1 Traveller
www.no1traveller.com
Ecommerce website serving 6 major UK Airports.
We contracted Impact to help us develop an ecommerce website offering executive lounge services at Heathrow, Gatwick & Stansted. Impact assisted in writing the functional specification and developed the ecommerce store from scratch. Over time we have enhanced the website to now take bookings for everything from lounge access to limousine hire, and airside bedrooms to spa services. This website queries real-time availability using web API's and pushes bookings through to the relevant airport lounges, plus distributes messaging to all appropriate services eg concierge, beauty therapists etc. There are also affiliate tracking systems and dynamic discount code features.
This project has involved some complex problem solving and development and we have always found Andy more than capable of delivering a solution that has met our needs, timeline and budget.
I have always found Impact to be prompt in communications, available to discuss any ideas or issues that we've had, and they have often gone the extra mile by making changes to our website and epos systems in the early hours of the morning so as to minimise disruption to our executive lounges.
Andrew Strain
Director of Digital