CRM and Forum Development
Created for Cream Associates (a marketing consultancy with associates based all over the UK) the CreamCRM (Customer Relationship Manager) has been designed to assist the sales & marketing staff with administering their ever growing contacts database; whilst the CreamForum has been built to assist geographically split teams in communicating across numerous projects.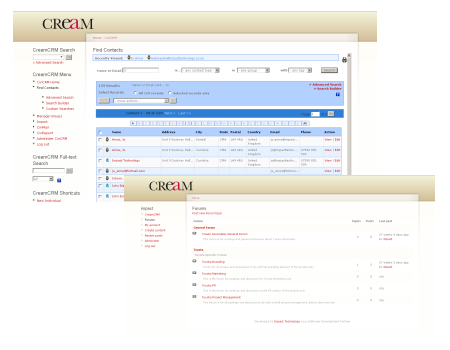 With a host of essential elements built in, the CreamCRM offers the ability to record, track and manage information from basic contact details, to correspondence tracking, to managing in-depth marketing & sales profiling info against each potential and current customer.
The CreamForum was created to enhance communications between all associates by facilitating a central point of reference for all project related documents, ideas, and discussions.
Helen Walters, Founding Director of Cream Associates says:
"Impact came highly recommended, and I wasn't disappointed. Their work has more than met our needs and we look forward to continuing to work with them."
Project info
Connecting remote workers through a CRM & Online Forum for a Marketing Consultancy
software development, crm development, customer relationship manager development, online forum development
Active Andalucia
Active Andalucia
www.active-andalucia.com
Multilingual website for outdoor pursuits center in Spain.
Just wanted to say a huge thanks for the work you have put in to creating our new web site, we are really pleased with the results.
I know we have not been the easiest of clients to work with as we had no clear direction in the beginning and then so many unplanned changes but thank you for your patience and it has paid off as we now have what we think is the best site in the "activity business" it is vibrant, easy to navigate, engaging and informative. Your advise and guidance through this process for us has been amazing and fingers crossed this is the start to a great new venture for us.
We have a few other projects we are working on and look forward to talking to you about these soon.
Deborah Kelly, Marketing Director