Instore stock location tool
Enabling staff to locate the right diamond within Graff's many retail outlets across the world. Diamonds can be searched for across worldwide retail outlets using many variables such as: weight, cut, clarity, colour, setting etc.

Once the right diamond is located, staff can request it and have it shipped to the nearest store to the customer.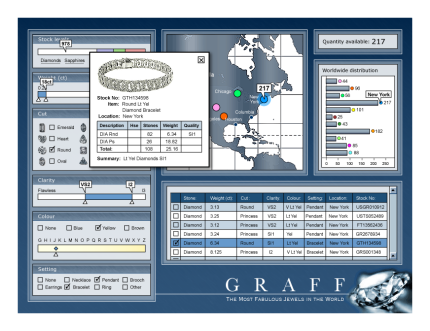 Project info
Graff Jewellery Diamond Locator Desktop App
graff jewellers, diamond locating tool, desktop app
Palacio Consulting Ltd
Palacio Consulting Ltd
I have worked with Impact Technology for a number of years now on at least 3 of my projects. I have found them to be very professional with great attention to detail, enhancing the brief with their technical knowhow & experience. I have found them to be very focussed to the customer's needs and can recommend the Impact Team to deliver your project.
Mark Palacio, Managing Director