Health & Safety Database Development
Built to enable a busy Circus Training School to quickly and easily catalogue 1000's of pieces of equipment and location, this comprehensive database development project is helping the organisation meet its vital Health & Safety objectives.
The equipment classification and inspection database development provides tracking for equipment, logging of test data and test histories, with reminder prompts when test are due. Plus a full audit trail, via secure log in, for health and safety purposes.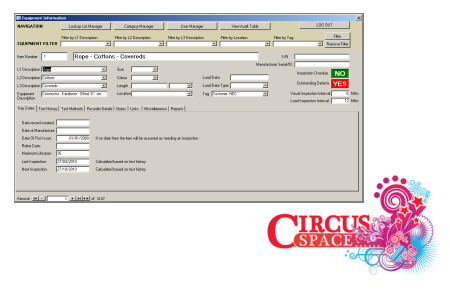 This example screen allows the database administrator to build and manage the system, including tasks such as:
Creating equipment classifications and sub level categories

Editing lookup lists

Create user accounts and set specific privileges

View the full audit trail

Normal users are able to:
View equipment records
View test data records
Add and edit equipment records
Add and edit test data
Run a variety of vital reports to assist in the smooth running of the business.
Project info
Circus School Health & Safety Equipment Database Development
access database development, database development
Badger Office Supplies - Karl
Badger Office Supplies
www.phoenix-direct.co.uk
Ecommerce website selling ink and toner cartridges.
Impact Technology worked very closely with us throughout the planning process of a new retail website, offering expert advice and opening our eyes to new technology and various digital marketing options. Andy and Jo kept in regular contact throughout the development stage by providing updates, recommendations and generally being a cut above other web developers that we have worked with in the past.
Since the launch of our website, Impact Technology have developed a range of bespoke features that have allowed us to control our catalogue of products more effectively, measure the behavior of visitors in more detail and enabling us to implement new features as and when they are released by the OScommerce community. Impact Technology have been, and continue to be, an absolute joy to work with.
Kal Kitchen, Sales Director