Health & Safety Database Development
Built to enable a busy Circus Training School to quickly and easily catalogue 1000's of pieces of equipment and location, this comprehensive database development project is helping the organisation meet its vital Health & Safety objectives.
The equipment classification and inspection database development provides tracking for equipment, logging of test data and test histories, with reminder prompts when test are due. Plus a full audit trail, via secure log in, for health and safety purposes.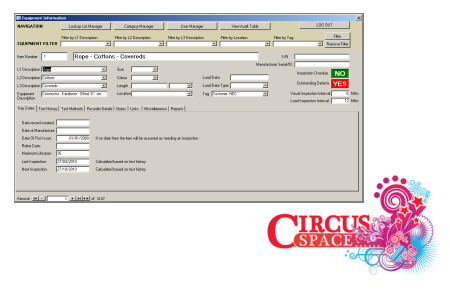 This example screen allows the database administrator to build and manage the system, including tasks such as:
Creating equipment classifications and sub level categories

Editing lookup lists

Create user accounts and set specific privileges

View the full audit trail

Normal users are able to:
View equipment records
View test data records
Add and edit equipment records
Add and edit test data
Run a variety of vital reports to assist in the smooth running of the business.