Health & Safety Database Development
Built to enable a busy Circus Training School to quickly and easily catalogue 1000's of pieces of equipment and location, this comprehensive database development project is helping the organisation meet its vital Health & Safety objectives.
The equipment classification and inspection database development provides tracking for equipment, logging of test data and test histories, with reminder prompts when test are due. Plus a full audit trail, via secure log in, for health and safety purposes.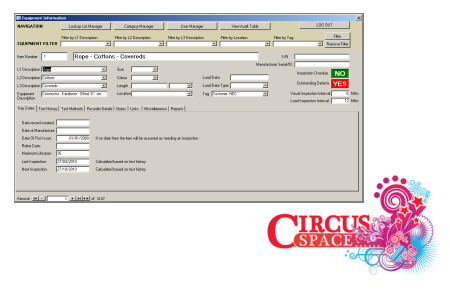 This example screen allows the database administrator to build and manage the system, including tasks such as:
Creating equipment classifications and sub level categories

Editing lookup lists

Create user accounts and set specific privileges

View the full audit trail

Normal users are able to:
View equipment records
View test data records
Add and edit equipment records
Add and edit test data
Run a variety of vital reports to assist in the smooth running of the business.
Project info
Circus School Health & Safety Equipment Database Development
access database development, database development
Active Andalucia
Active Andalucia
www.active-andalucia.com
Multilingual website for outdoor pursuits center in Spain.
Just wanted to say a huge thanks for the work you have put in to creating our new web site, we are really pleased with the results.
I know we have not been the easiest of clients to work with as we had no clear direction in the beginning and then so many unplanned changes but thank you for your patience and it has paid off as we now have what we think is the best site in the "activity business" it is vibrant, easy to navigate, engaging and informative. Your advise and guidance through this process for us has been amazing and fingers crossed this is the start to a great new venture for us.
We have a few other projects we are working on and look forward to talking to you about these soon.
Deborah Kelly, Marketing Director