CRM and Forum Development
Created for Cream Associates (a marketing consultancy with associates based all over the UK) the CreamCRM (Customer Relationship Manager) has been designed to assist the sales & marketing staff with administering their ever growing contacts database; whilst the CreamForum has been built to assist geographically split teams in communicating across numerous projects.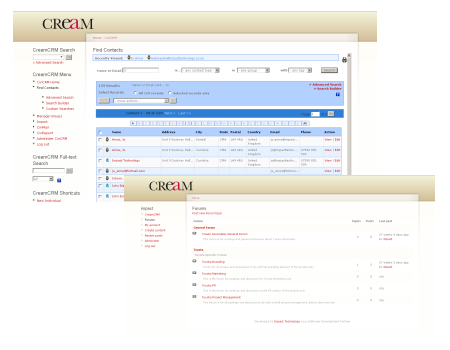 With a host of essential elements built in, the CreamCRM offers the ability to record, track and manage information from basic contact details, to correspondence tracking, to managing in-depth marketing & sales profiling info against each potential and current customer.
The CreamForum was created to enhance communications between all associates by facilitating a central point of reference for all project related documents, ideas, and discussions.
Helen Walters, Founding Director of Cream Associates says:
"Impact came highly recommended, and I wasn't disappointed. Their work has more than met our needs and we look forward to continuing to work with them."
Project info
Connecting remote workers through a CRM & Online Forum for a Marketing Consultancy
software development, crm development, customer relationship manager development, online forum development
No.1 ecommerce website - Andrew Strain
No.1 Traveller
www.no1traveller.com
Ecommerce website serving 6 major UK Airports.
We contracted Impact to help us develop an ecommerce website offering executive lounge services at Heathrow, Gatwick & Stansted. Impact assisted in writing the functional specification and developed the ecommerce store from scratch. Over time we have enhanced the website to now take bookings for everything from lounge access to limousine hire, and airside bedrooms to spa services. This website queries real-time availability using web API's and pushes bookings through to the relevant airport lounges, plus distributes messaging to all appropriate services eg concierge, beauty therapists etc. There are also affiliate tracking systems and dynamic discount code features.
This project has involved some complex problem solving and development and we have always found Andy more than capable of delivering a solution that has met our needs, timeline and budget.
I have always found Impact to be prompt in communications, available to discuss any ideas or issues that we've had, and they have often gone the extra mile by making changes to our website and epos systems in the early hours of the morning so as to minimise disruption to our executive lounges.
Andrew Strain
Director of Digital