CRM and Forum Development
Created for Cream Associates (a marketing consultancy with associates based all over the UK) the CreamCRM (Customer Relationship Manager) has been designed to assist the sales & marketing staff with administering their ever growing contacts database; whilst the CreamForum has been built to assist geographically split teams in communicating across numerous projects.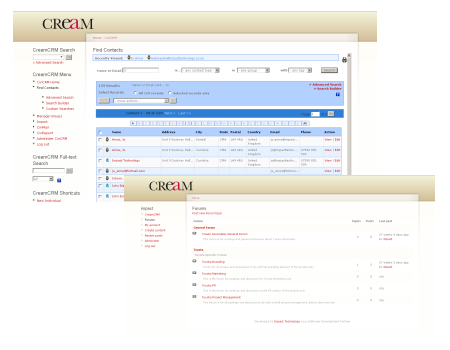 With a host of essential elements built in, the CreamCRM offers the ability to record, track and manage information from basic contact details, to correspondence tracking, to managing in-depth marketing & sales profiling info against each potential and current customer.
The CreamForum was created to enhance communications between all associates by facilitating a central point of reference for all project related documents, ideas, and discussions.
Helen Walters, Founding Director of Cream Associates says:
"Impact came highly recommended, and I wasn't disappointed. Their work has more than met our needs and we look forward to continuing to work with them."
Project info
Connecting remote workers through a CRM & Online Forum for a Marketing Consultancy
software development, crm development, customer relationship manager development, online forum development
Badger Office Supplies - Karl
Badger Office Supplies
www.phoenix-direct.co.uk
Ecommerce website selling ink and toner cartridges.
Impact Technology worked very closely with us throughout the planning process of a new retail website, offering expert advice and opening our eyes to new technology and various digital marketing options. Andy and Jo kept in regular contact throughout the development stage by providing updates, recommendations and generally being a cut above other web developers that we have worked with in the past.
Since the launch of our website, Impact Technology have developed a range of bespoke features that have allowed us to control our catalogue of products more effectively, measure the behavior of visitors in more detail and enabling us to implement new features as and when they are released by the OScommerce community. Impact Technology have been, and continue to be, an absolute joy to work with.
Kal Kitchen, Sales Director