BNFL Pond Database System
Sellafield is a large multi-function nuclear site close to Seascale on the coast of Cumbria, England. Current key activities (2019) include nuclear fuel reprocessing, nuclear waste storage and nuclear decommissioning, and it is a former nuclear power generating site. The site covers an area of two square miles and comprises more than 200 nuclear facilities and more than 1,000 buildings. It is Europe's largest nuclear site and has the most diverse range of nuclear facilities in the world situated on a single site.
There are four ponds and silo facilities at Sellafield, all containing highly contaminated waste. In March 2015 work began to pump 1,500 cubic metres of radioactive sludge from the First Generation Magnox Storage Pond, enough to fill seven double-decker buses. The clean-up operation is arduous – the Magnox pond isn't expected to be decommissioned until 2054. It is one of several hugely necessary, and hugely complex, clean-up jobs that must be undertaken at Sellafield.
The project was to design, develop, build and deploy a client server database to manage the nuclear waste storage ponds.
Technologies used include: Oracle, VBA, Winforms
Hihghlights: Integrity of data was vital. Software and hardware interlocks. Full audit trail. Highly visual display.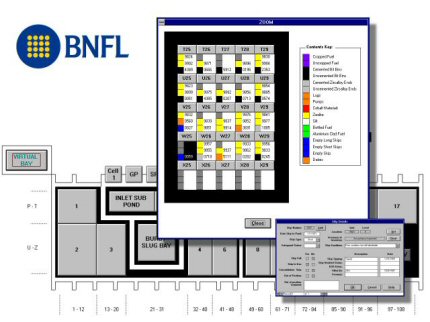 Project info
British Nuclear Fuel Ltd (BNFL) Pond Database System
database development,oracle development
BidMe
Ecommerce Solutions
Financial services ecommerce web site.
Having worked with the staff at Impact for over 10 years I can confidently recommend their services. I originally chose them as the preferred partner for my project as they demonstrated a clear understanding of the issues involved, and had a refreshing can-do attitude. The issues we faced were technically challenging but Impact always provided a well thought out solution. With our products being regulated by the Financial Services Authority (FSA), security and adhering to standards was vitally important, along with offering a slick user experience. From design through user interface, third party integration and back office integration Impact's knowledge and experience shone through.
Paul Coulter, Ex Marketing Director of WeBuyAnyCar.com
(yes he was responsible for that advert – "any any any any…..")
Now Managing Director of E Beddings