Internal iPhone App for Sales Staff
Developed for Roland, manufacturers and distributers of musical equipment worldwide, this iphone app development project has involved designing and developing an interactive app using rich media such as audio and video data to allow their sales staff to showcase their entire product base of approx 2,000 products.
Products are searchable by product name/number or the user can browse down through 4 sub category levels until they reach the product they want to showcase.
We then offer detailed product information including price, a short description, long description, mutiple product images, quick time audio clips and streamed video demonstrations played using the in-built YouTube player.
We also offer location based services to help locate the nearest dealer with stock, news and promotional articles, a favourites section, linked product accessories, and secure services to show Roland staff only, the latest financial and stock data.
Developed using C++ in an Xcode environment, this app uses many web services/XML to pull information from the website database to the app to provide up to the minute data. Thus all the iPhone app navigation and content is dynamic and being driven by webservices.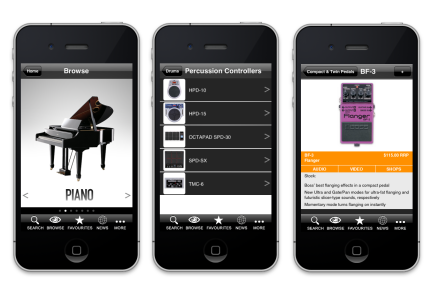 Project info
Roland iPhone App Development
iphone app development cumbria
No.1 ecommerce website - Andrew Strain
No.1 Traveller
www.no1traveller.com
Ecommerce website serving 6 major UK Airports.
We contracted Impact to help us develop an ecommerce website offering executive lounge services at Heathrow, Gatwick & Stansted. Impact assisted in writing the functional specification and developed the ecommerce store from scratch. Over time we have enhanced the website to now take bookings for everything from lounge access to limousine hire, and airside bedrooms to spa services. This website queries real-time availability using web API's and pushes bookings through to the relevant airport lounges, plus distributes messaging to all appropriate services eg concierge, beauty therapists etc. There are also affiliate tracking systems and dynamic discount code features.
This project has involved some complex problem solving and development and we have always found Andy more than capable of delivering a solution that has met our needs, timeline and budget.
I have always found Impact to be prompt in communications, available to discuss any ideas or issues that we've had, and they have often gone the extra mile by making changes to our website and epos systems in the early hours of the morning so as to minimise disruption to our executive lounges.
Andrew Strain
Director of Digital